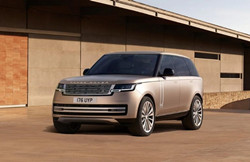 BOERNE, Texas (PRWEB)
March 11, 2022
The city's premier Land Rover dealership, Land Rover Boerne, has a special launch event on March 11, 2022. As part of the event, the dealership is inviting its valued customers and Land Rover fans in Kendall County, Texas, to join them for an exclusive, private unveiling of the all-new 2022 Range Rover luxury SUV at its dealership location.
Land Rover Boerne has been selected to be a stop on the official New Range Rover tour by the national Land Rover team, which is traveling across the US to showcase the New Range Rover at select Range Rover dealerships. The Land Rover Boerne dealership will have an example of the new 2022 Range Rover in its showroom for private showings for its valued customers and Land Rover fans.
The dealer will be offering 15-minute appointment slots for interested customers from 10 am to 5 pm During this time, the Land Rover Boerne dealership staff will walk customers through the New Range Rover, its features and answer any questions that they may have regarding orders .
From 6 pm to 8 pm onward, there will be an unveiling and guests will be served sips, hors d'oeuvres, followed by a quick presentation of the New Range Rover.
The New Range Rover is one of the most anticipated Land Rover vehicles to hit the market in the past ten years and is already generating a lot of buzz in the industry, even before being seen by the public.
Dubbed the most desirable Range Rover ever created, the luxury full-size SUV comes with a range of luxury interior features, including executive class rear seating with a touchscreen controller, active noise cancellation, four-zone climate control and more.
The New Range Rover also features a new minimalistic "reductive" exterior design with elements such as hidden until lit taillights, flush exterior elements like flush door handles that do not obstruct the SUV's silhouette and digital LED headlights that focus on objects and blank out reflections.
For more information about the event, visit the Land Rover Boerne dealership's website https://www.landroverboerne.com or call (830) 428-2245 or send an email to breceptionist@barrett.co to RSVP and learn more.
The Land Rover Boerne dealership is located at 32120 IH-10 West.
Share article on social media or email:
.